Dental Implants in Windsor and Greeley, Colorado
Why Choose Benchmark Dental for Dental Implants?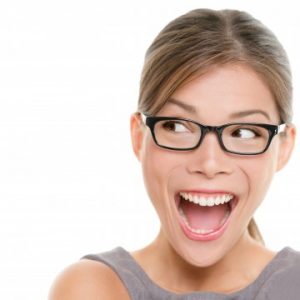 Benchmark Dental offers Dental Implants in our Windsor office, which services all of Northern Colorado including Greeley. Our skilled staff and in-house, state-of-the-art technology will help you correct the most obvious and challenging obstacle to a beautiful smile – missing teeth!
In addition to missing teeth, implant systems are being used more and more for dentures. They offer a permanent solution to the pain, messiness, bad breath and hassle associated with traditional dentures. Learn more about The Denture Revolution!
What is a Dental Implant?
Sometimes losing a tooth is inevitable. Suffering with a space is not! With the improved technology of implants, there is a reliable, long-term, non-removable option! This is as close to a new tooth as you can get! By placing an artificial root (or implant) in the bone, a single tooth can be placed, eliminating the need for bridges, partial dentures, or simply allowing the teeth to shift and bone to melt away. This treatment is surprisingly comfortable and is covered by an increasing number of dental insurance plans.
The new implant resembles the old tooth's root and can be used to chew and eat anything you enjoyed with your natural tooth.
Why Choose a Dental Implant?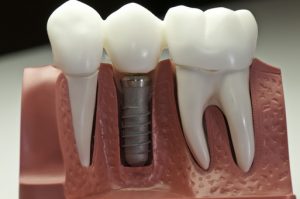 With this technology, you have a single tooth that you floss and brush like a regular tooth, without worry of damaging the other teeth through bridge preparation or partial denture wear. The average life of a bridge is 13 years, but the average life of an implant is 40 years and climbing! Dental implants are ideal for young people who are congenitally missing a tooth, since it keeps their other teeth healthy and avoids repeat treatments throughout their life. Dental implant placement causes relatively little discomfort due to the fact that bone doesn't have any nerves. We always prescribe pain medication for implant placement procedures, but many people don't even fill them!
How Much Do Dental Implants Cost?
Why Choose Dr. Fowler for Your Implants?
Dr. Fowler has taken the time to pursue the best training available from a multitude of sources. He knows how to properly diagnose and plan your dental implant placement. This type of surgery is not something that should be trained for over a weekend. For this reason, Dr. Fowler spent the better part of a year studying and training to ensure maximum success for you. With his knowledge and use of advanced imaging, Dr. Fowler will help you understand the procedure and to be comfortable with your treatment plan. By using the very best implants available along with the best technology available, the the best crown materials, and the best methods, Dr. Fowler reduces your risks and gives you the best possibility for success.
Dental Implants vs. a Dental Bridge
What are the risks?
Dental implant placement is a surgical procedure. Like any surgical procedure, there are risks and potential complications. Most of these risks can be prevented through proper diagnosis and imaging. Dr. Fowler makes sure that no details are missed and that he has a full understanding of what your individual anatomy, bone structure, and available space are prior to surgery. A major tool in this is imaging with CT scans. Modern Cone Beam CT, or CBCT, scans can show a three-dimensional image of your jaw, which aids in implant placement and avoiding the main risks of implant surgery, which can include damaging nerves or blood vessels. Benchmark Dental is the only general dentistry office in our area with a state-of-the-art 3D PaX Duo3D Radiographic Cone Beam CT Scanner.
Learn More About the Use of CAT Scans for Dental Implants
Dr. Fowler received his implant training at the Rocky Mountain Dental Institute in Denver, Colorado. He is a member of the International Congress of Oral Implantologists and is working towards a fellowship with that body. If you have questions about the benefits of implants, the cost of dental implants, or potential complications, please give us a call or email us to schedule a complimentary consultation.
Contact us however you like!
Please feel free to contact us in whatever manner you're most comfortable with! You can call us at (970) 667-8782.