CAT Scans for Dental Implants | 3D Imaging
At Benchmark Dental we believe in using the finest technology available to serve our patients, therefore, we are excited to announce the latest addition to our Dental Office.  We are proud to announce that we now have a state-of-the-art 3D Radiographic Cone Beam CT Scanner. We use it primarily to create an accurate 3D image of the jaw for placing Dental Implants. Using a 3D CT or CAT scan for placing dental implants is absolutely essential. Please do not consider allowing any dentist to place an implant in your jaw without first using a 3D CAT scan to determine the thickness of the bone and the location of the nerves in your face.
How is the 3D Scanner Used?
We have two different scanners: PaX Duo 3D from Vatech and a Newtom VGi. These are among the most advanced scanners currently on the market. The 3D CAT scan for dental implants produced by this machine is an essential part of the process! By creating 3D images, this scanner will allow Dr. Fowler to make an accurate assessment of your dentition and surrounding oral-facial structures prior to placing dental implants and performing other surgical procedures.  This unique machine can also help us in diagnosing and treating obstructive sleep apnea.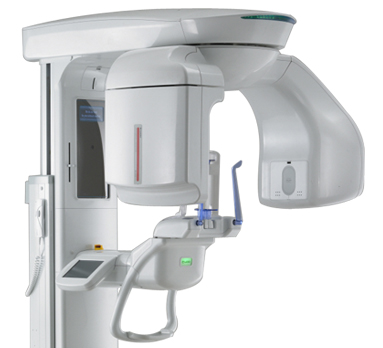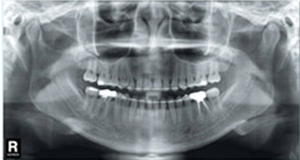 Panoramic View
The 3D scanner can take a true digital panoramic x-ray of the teeth and jaws, which can then be utilized before and during implant surgery and for other procedures such as surgical extractions.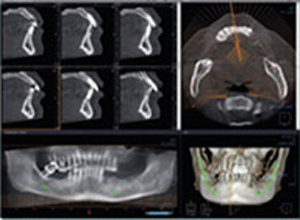 CBCT Scan
CBCT stands for Cone Beam Computed Tomography. This is a specialized type of CT scan that combines a rotating x-ray with computer technology to render a 3D image of body tissues and structures. The cone beam technology offers a compact, faster and safer version of the regular CT:
Cone Shaped Beam
Smaller Scanner
Lower Radiation Dosage
Faster Scanning Time
Why is it critical to get a CAT Scan for dental implants?
In dental implant surgery, a manmade root is placed in the bone. Before preparing the bone and placing the implant, it is critically important to accurately pinpoint vital structures including:
The inferior alveolar canal
The mental foramen
The maxillary sinus
Shape of the mandible
By being able to identify the placement of these structures, we can:
Shorten your time in the chair
Reduce the potential number of visits
Lessen the chances of complications
What are the benefits of cone beam scanners?
Cone beam CT scanning, when compared to traditional medical CT scanning, utilizes less than 2% of the radiation, provides more accuracy in the area being examined, and is safer for the patient
Our doctors are provided with improved diagnostic tools
We can deliver better implementation of care
Benchmark Dental Care is one of the first dental practices in the area to incorporate in-house cone beam CT imaging. This significant investment in technology benefits both our patients and our doctors by allowing for rapid and detailed assessment of important anatomical structures and accurate diagnosis of clinical problems.