---
Laser Dentistry
A laser? In my mouth?
Yes, we employ many of the latest technologies for dentistry, and laser dentistry is one of the best.  By using a specialized laser beam directed at the tissue surface, treatment can be performed without ever touching the tissue surface.
We use the Waterlase iPlus by Biolase for laser treatment.  It's one of the best advancements in dentistry in recent years.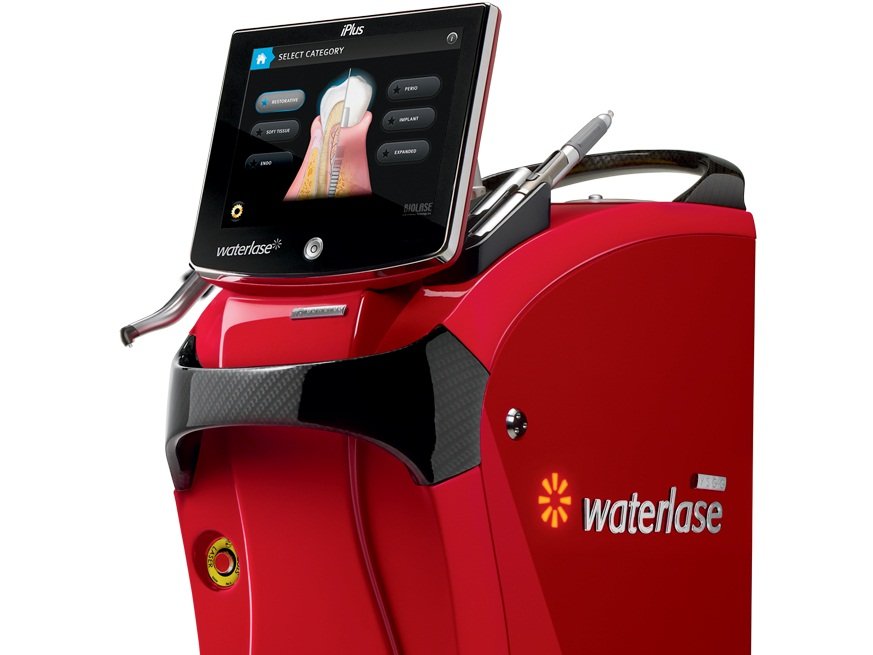 The Waterlase iPlus can be used for many surgical procedures that would traditionally be completed with a scalpel.  Due to the unique properties of this incredible laser, it can cut soft tissue cleanly, with reduced bleeding..  Since the laser does less damage to the tissues at the incision than a scalpel does, it causes less inflammation, leading to less pain and swelling after a procedure.  Periodontal surgeries, implant surgeries, even root canals, can be completed faster and with better outcomes and shorter healing times.  As with any other instrument that we use, it has its limits, but tends to improve the experience in the dental office overall.
One of the amazing properties of this unique technology is that it can also be utilized to remove decay.  Used in the place of a dental drill, it cuts by exciting the water droplets within the tooth, causing them to vaporize and burst.  When they do, they take the decayed tooth with them.  While this tends to be too sensitive for adult teeth to complete without anesthetic, some of our very best outcomes are in completing fillings for kids without having to numb, which means no shots, which means no pain and no dental anxiety for your little ones!  
Like everything, it has its limitations, but we've been making use of this incredible technology for nearly 5 years and lots of smiling faces!  
Questions?  We're here for you.  
Please take a moment and check out the video below for more information. If you have any questions or would like to know more, please stop by, give us a call at 970-686-7858, 970-667-8782, or feel free to Contact Us however is most convenient to you.
---