There have been dramatic improvements in the world of dentistry. Yet, there are thousands of people in our area who put up with dentures that simply make their lives miserable. Amazingly, there are an equal number of people with painful dental problems who resist taking that next toothy step.
You need not delay any longer, because…
Dentures Have Evolved!
Do your dentures do ANY of the following?
Slip
Move
Fall out
Require loads of adhesive
Fail to chew certain foods
Make you look old
Embarrass you in public
Make you sore and sometimes painful
If the answer to any of these questions is yes, you are not alone. What if, with one phone call, you can immediatelystart to improve your life? You can now look better, feel better, and once again eat those long missed, delicious foods – with a natural smile and excellent cosmetics to boot!
New Technology To the Rescue
There are two main categories of options – those that are removable and those that are fixed, or non-removable. Your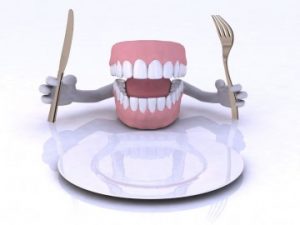 dentist can remove them if needed, but you can't.
Dental implants are the biggest advancement that dentistry has ever seen. We can now benefit from the same type of surgical materials used in hip implants and knee replacement surgery to replace missing teeth and totally change the way that we think of replacement teeth. Never use the word "false" again! Nobody else around you will!
A dental implant is basically a man-made root that is placed precisely into the bone. Multiple implants support a row of teeth or a denture that snaps into place on the implants. The denture is "locked in" and stabilized. With a fixed set of teeth, they do not move. Patients with an implant denture (referred to as an "overdenture") often say that they chew their food like they remember chewing years ago – when they had their own teeth!
For non-implant patients, refitting your current denture with new acrylic material can restore the fit to match the new shape of your mouth. Jawbones gradually shrink over time due to the pressure of the chewing forces being applied directly to the bone surface. Your dentures don't shrink. When that denture no longer fits exactly to your jawbone, more bone destruction occurs – and at a faster rate! Some people are proud that they have worn the same set of teeth for 20-30 years, however, we often discover much greater bone damage than what should have normally occurred. Dentures need bone to fit well. Even worse, by wearing an ill-fitting denture you speed up the process. As the jawbone shrinks, a sunken facial appearance often makes people look older. There is an increase in deep age lines and wrinkles. A new denture may be able to lengthen the face, eliminating some of these unwanted features – and without plastic surgery!
A New Set of Teeth
Best results usually involve making a new set of teeth. There are an incredible number of tooth shapes and colors available, there are even several different gum colors. We will help you pick a shape and shade that best fits your face. No two faces are alike, no two mouths are alike, so no two dentures should be alik
Call our Winsdor Dental Office to make an appointment with a dentist who may be able to help you find out more about this topic, and improve your oral health.